.entry-header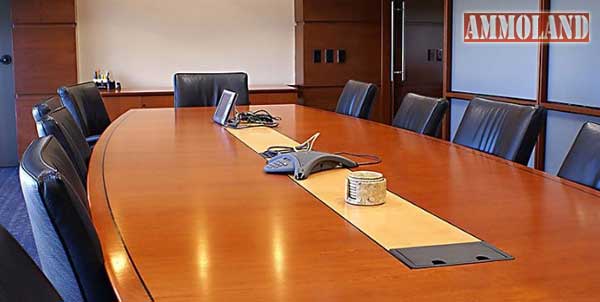 DALLAS -(Ammoland.com)- During the 2019 Convention and Expo, a group of top-level conservation experts will convene for DSC's Conservation Advisory Board (CAB). This new group is charged with the mission of providing subject matter expertise with both regional and global perspectives on needed research, program development and advocacy.
The CAB will advise and assist the DSC Board of Directors and the DSC Grants Committee on domestic and international conservation issues to ensure that DSC's mission fulfillment is focused most appropriately.
The first meeting is to be held at Mogambo: Dagga Boy Danger, January 17-20 at the Kay Bailey Hutchison Convention Center and Omni Hotel Dallas in Downtown Dallas.
The CAB is comprised of some renowned scientists, policymakers and researchers, who will all offer their expertise on the greatest conservation needs from their respective subject matter and regions.
New board members include Jeff Crane (Congressional Sportsmen's Foundation), Khalil Karimov (wildlife biologist, IUCN Central Asia Group chair), Rob Keck (director of conservation for Bass Pro Shops/Cabela's), Shane Mahoney (Conservation Visions Inc.), Tamas Marghescu (director general of CIC), Ron Regan (executive director of the Association of Fish and Wildlife Agencies) and Danene van der Westhuyzen (professional hunter and president of the Namibia Professional Hunting Association). Corey Mason, DSC's executive director, also a Certified Wildlife Biologist™, is the staff liaison to this prestigious board.
Jeff Crane
Jeff Crane joined the Congressional Sportsmen's Foundation (CSF) in 2002 and brings nearly 40 years of experience in on-the-ground natural resource management and policy expertise at the federal, state and international levels.
A lifelong outdoorsman, Crane spent five years working in the US Congress and was instrumental in establishing the Maryland legislative sportsmen's caucus prior to joining CSF. In addition, he has experience developing wildlife habitat management plans in the United States and South Africa. During his eight years in Africa, Crane obtained his professional hunter's license and guided hunts for big game animals.
Khalil Karimov
Khalil Karimov is a vet and wildlife biologist specializing in snow leopard ecosystems. He holds a wildlife biology degree from the University of Natural Resources and Life Sciences, Vienna (BOKU) Institute of Wildlife Biology and Game Management.
He has worked for the past eight years on the conservation of the snow leopard and its prey species in Tajikistan. Karimov is supporting the development of community-based conservancies and helping to improve wildlife management in Tajikistan. He currently chairs the IUCN CEESP/SSC SUli Central Asia Specialist Group.
Rob Keck
Rob Keck has been a driving force in conservation for more than three decades, and during that time built one of the most successful conservation organizations in the nation. His leadership, for 27 years, as the chief executive officer of the National Wild Turkey Federation directed and fueled the return of the wild turkey in North America. During that time, he oversaw the growth of the organization to over a half million members and developed a network of 2400 chapters that completed habitat improvement projects on over 4 million acres.
Keck has influenced conservation and natural resource policy issues, having served on the Sporting Conservation Council during the President George W. Bush administration, where he advised both the Secretaries of Interior and Agriculture on conservation matters. He was appointed by Interior Secretary Gayle Norton and later reappointed by Interior Secretary Dirk Kempthorne.
More recently, he was appointed by Interior Secretary Ryan Zinke as an Alternate to the Hunting and Shooting Sports Conservation Council.
Keck is the director of conservation for Bass Pro Shops where he is a strong influence in a company that makes conservation a priority and builds upon the partnerships developed with leading conservation organizations.
Shane Mahoney
Shane Patrick Mahoney is the former executive director for Sustainable Development and Science for the Government of Newfoundland and Labrador, Canada. He holds honors science baccalaureate and masters of science degrees in wildlife ecology from Memorial University of Newfoundland and has been cross-appointed at various Canadian university faculties. He is also the founder and served as executive director for the Institute for Biodiversity, Ecological Science and Sustainability at Memorial University of Newfoundland and Labrador. For much of his 30-year career in government, he led the province's wildlife management and research programs for large mammals, focusing on predator-prey interactions, habitat selection strategies and population dynamics of moose, woodland caribou, black bear and lynx. He also has extensive research experience in the field of industrial impacts on wildlife. Mahoney's peer-reviewed publications have appeared in more than 20 scientific journals.
He served as editor and contributing author for two International Journal of Environmental Studies Monographs on Conservation and Hunting in North America and is recognized as a leading authority on the North American Model of Wildlife Conservation. He is currently co-editing the first book on this conservation approach for the Wildlife Society and Johns Hopkins University Press.
A recipient of numerous awards and appointments, Mahoney currently serves as global vice-chair as well as North American chair for the Sustainable Use and Livelihoods Specialist Group of the World Conservation Union (IUCN), Deputy-president of the Policy and Law Commission for the International Council for the Conservation of Wildlife (CIC) and International Liaison for the Wildlife Society. He is also the founder and serves as CEO for the international wildlife venture, Conservation Visions Incorporate
Tamas Marghescu
Tamás Marghescu graduated from one of the oldest universities of the world, the famous Forestry Science Faculty of the Albert-Ludwigs University in Freiburg, Germany, with a masters in forestry sciences.
He served as a junior forestry officer in the Bavarian Forestry Service in Germany, mainly in the alpine region at the Austrian border. Marghescu served as a German associate professional officer in the Operations Division of the Forestry Department in the headquarters of the Food and Agriculture Organization of the United Nations (FAO) in Rome, Italy. In 1990, he was transferred to the FAO Regional Office in Bangkok, Thailand, to support the field operations in the FAO Asia Pacific Region.
On the request of the Royal Thai Government, he was appointed by FAO to be responsible for the execution of a UNDP-funded rural development project in central-north Thailand (Khao Kho, Petchabun Province), which was jointly implemented by the Supreme Command of the Royal Thai Army and the Royal Forest Department.
He worked until 2002 (6 years) as Special Adviser to the Hungarian Minister of Environment. In 2002, Marghescu was appointed as regional director for Pan-Europe (57 countries) of the International Union for Conservation of Nature (IUCN) with the then head office for Pan-Europe in Brussels, Belgium and sub-regional offices in Moscow, Russian Federation; Tbilisi, Georgia; and Belgrade, Serbia. He served as the Permanent Representative of IUCN to the European Union and ran the Representation in Brussels as an 'Embassy' of nature conservation. In January 2010, he was appointed as director general of the International Council for Game and Wildlife Conservation (CIC). He represents the CIC in international fora and multilateral environmental conventions, such as the Commission on Forestry (COFO), a statutory body of the Food and Agriculture Organization of the United Nations (FAO), the UN Convention on Biological Diversity, and the UN Convention on International Trade in Endangered Species of Wild Fauna and Flora (CITES).
He served, after appointment by the President of the European Parliament, as representative of the Parliament in the Management Board of the European Environment Agency (EEA). He was a member of the evaluation team of the European Forestry Institute in 2009/2010
Ron Regan
Ron Regan is the executive director for the Association of Fish and Wildlife Agencies. He spent more than 25 years working for the Vermont Fish and Wildlife Department where he served as deer project leader, director of wildlife and commissioner. He has co-authored two papers regarding the North American Model of Wildlife Conservation, both of which focus on state engagement, and he has participated in a variety of reviews and panel discussions about the model
Regan serves on the boards for the Theodore Roosevelt Conservation Partnership, the Hunting and Shooting Sports Conservation Council, the Recreational Boating and Fishing Foundation, the Council to Advance Hunting and the Shooting Sports, the National Deer Alliance and the National Conservation Leadership Institute.
Regan is also a professional member of The Wildlife Society and the Boone and Crockett Club. Regan has a bachelor's degree in wildlife biology from the University of Vermont (1974) and is a certified wildlife biologist (TWS).
Danene van der Westhuyzen
Danene van der Westhuyzen is one of only a few qualified female professional hunters in Namibia, and the first female dangerous-game PH to qualify in Namibia.
Her passion for fair and ethical hunting has amplified her stand with numerous conservation and anti-poaching organizations over the past years.
Westhuyzen is the president of the Namibia Professional Hunting Association (NAPHA), CEO of the Outfitters and Professional Hunting Associations of Africa (OPHAA), and was appointed in 2018 by the Minister of Environment and Tourism in Namibia as a board member of the Namibian Conservation Board. She is also a trustee of the Hunters United Against Poaching Fund, business manager of Aru Game Lodges, and also does locum work as a qualified optometrist in her free time.
Corey Mason
Corey Mason is the executive director and CEO of DSC, a leading international conservation organization and a member of the IUCN. As executive director and CEO, Mason oversees all of DSC's staff, programs, growth and mission execution.
He works extensively with federal and international delegations, policy makers and like-minded conservation organizations to support conservation and the demonstrated benefits of the conservation through hunting model. Mason serves on numerous boards and committees, including state advisory committees for mule deer, whitetail deer and desert bighorn sheep.
Prior to his work at DSC, he had a 16-year career with the Texas Parks and Wildlife Department where he held the positions of regional director, program leader and management area biologist. Mason is a published author, including both popular and peer-reviewed scientific articles. He is a Certified Wildlife Biologist® and holds both bachelor's and master's degrees in wildlife management.
For more information, please visit www.biggame.org.
Visit DSC on Facebook: https://www.facebook.com/DallasSafariClub/
Visit DSC Foundation on Facebook: https://www.facebook.com/thedscfoundation/
---
About DSC
A member of IUCN and FACE, DSC is a mission-focused conservation organization, funded by hunters from around the world. With an administrative staff of less than 15 and a volunteer army of 500, DSC hosts the Greatest Hunters Convention on the Planet™ that raises funds for grants in conservation, outdoor education and hunter advocacy. In the past five years, more than $5 million has been channeled to qualified projects, organizations and programs in support of that mission. Get involved with DSC at www.biggame.org.
---
About DSCF
DSC Foundation is a non-profit corporation organized under section 501(c)(3) of the Internal Revenue Code of 1986, as amended. DSC Foundation serves the mission of DSC to conserve wildlife and wilderness lands, to educate youth and the general public and to promote and protect the rights and interests of hunters worldwide. Learn more about DSC Foundation at www.dscf.org.
.entry-content
#post-##
Source: DSC Announces Formation of Conservation Advisory Board